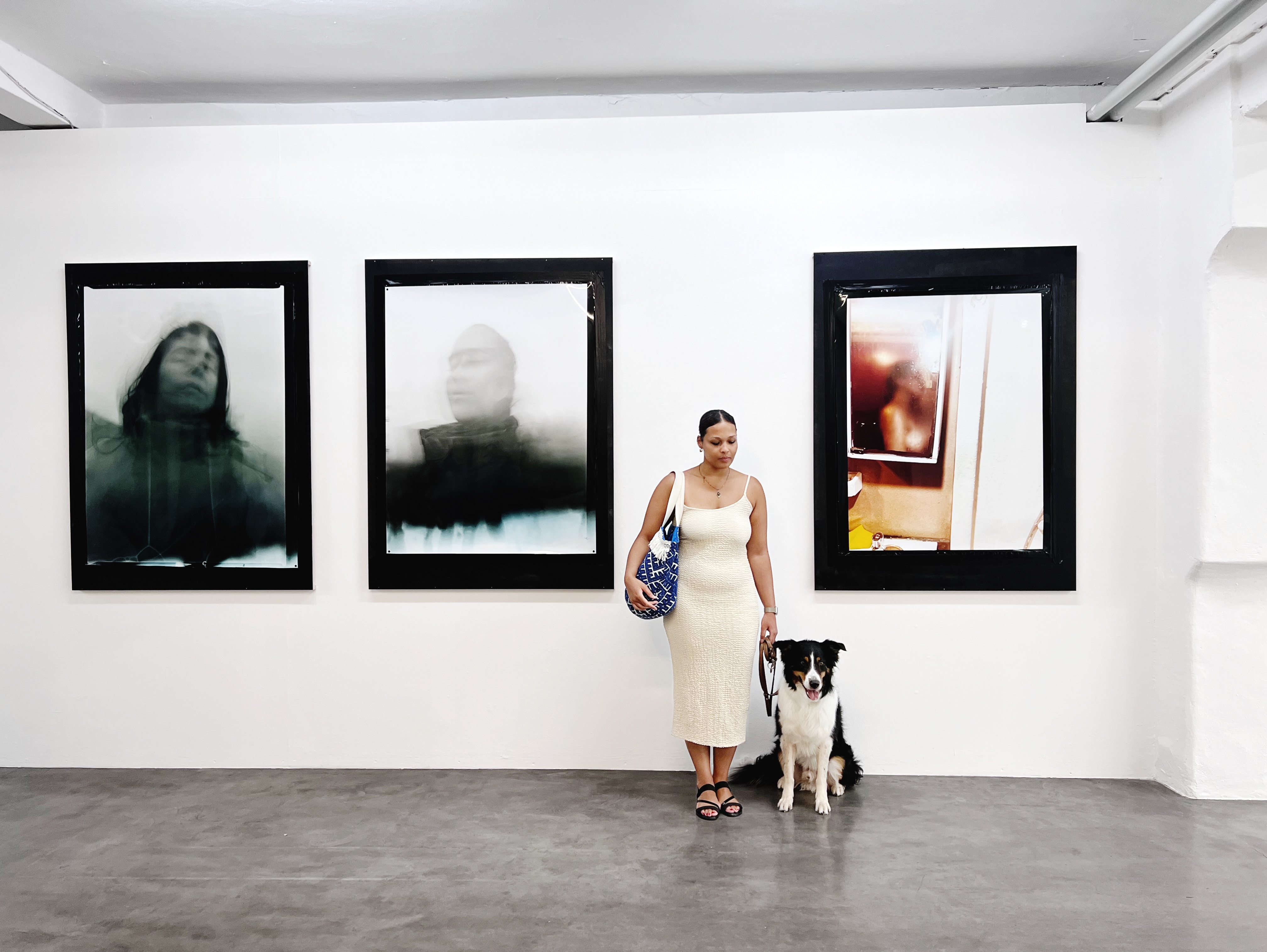 with Mingus at FOTODOKS Munich, July 2023
Photo: Julia Richter
Akosua (pronounced 'A-koss-ya') Viktoria Adu-Sanyah (*1990, Bonn) is a German-Ghanaian artist based in Zurich, Switzerland. She engages with the expansive territories of photography, exploring the convergence of materiality and emotion. Through iterative and process-oriented methods, she creates work that examines familial bonds, personal loss, identity, and institutional aspects of both environment and society. In her practice, which is both research-driven and shaped by autobiographical matters, she unites analog techniques with contemporary technologies, crafting intricate narratives that both challenge and liberate traditional concepts of identity and belonging. Her home is the color darkroom, where manual processes meet digital experimentation, offering nuanced perspectives on the tangible and intangible elements of the human experience. In Adu-Sanyah's work, personal, institutional, analog, and digital realms find interconnected expression, reflecting a continuous exploration and understanding of the multifaceted dynamics that shape our lives.
Published in National Geographic, LUX Magazine, The Art Newspaper, Polka Magazine, Bloomberg, npr, DerBund, swissinfo, Tagesanzeiger, Brytehall, and others.
CONTACT

ava@akosuaviktoria.com
Instagram
Newsletter
LANGUAGES
German (native), English, French, Spanish
SPECIAL ACCESS
Endurance race horses (training and competition). Internationally qualified CEI* rider with over two decades of experience in diverse equestrian communities globally.
MEMBER OF
DiversifyPhoto, Women Photograph, BlackWomenPhotographers, near. swiss association for contemporary photography, Swiss Artistic Research Network, visarte, pool collective


AWARDS, GRANTS, RESIDENCIES

2023 Yaa Asantewaa Art Prize
runner-up
2023 MAP Artist Residency, Heritage Space Hanoi, VNM
October+November
2023 Kunststipendium der Stadt Zürich / City of Zurich Art Grant
2022 Nomination C/O Berlin Talent Award
2022 Freiraumbeitrag / Working Stipend Kanton Zürich
2022
Louis Roederer Art Prize for Sustainability

2022 Artist Residency Photoforum Pasquart
2021 Prix d'Art Robert Schuman
2021 Patron Edition Fotomuseum Winterthur
2021 Nomination Louis Roederer Art Prize
2021 Book Publishing Grant Volkart Stiftung
2021 Nomination Photographic Encounters
2021 Recognition Fire Cracker Grant / highly commended
2021 Book Project Grant Canton Zurich
2021 Story Lab – Filmmaking Grant – Migros Kulturprozent
2020 Prix Photoforum 2020
2015 OPUS-Fotografiepreis
2015 Marta-Hoepffner-Preis für Fotografie – shortlist
2015 22. Bundeswettbewerb – shortlist
2014 Deutschlandstipendium
2013 Peter und Luise Hager-Preis / Award for Interdisciplinary Aesthetics
2012 Peter und Luise Hager-Preis / Award for Interdisciplinary Aesthetics
SELECTED COLLECTIONS
2023 Vontobel Art Collection
2021 Landeshauptstadt Saarbrücken
2015 Saarlandmuseum
SOLO SHOWS
2022 Behold The Ocean
Centre Photographie Genéve CH

2022 May I Dream?
Photoforum Pasquart CH

2020 Hyper Solitude
Space Place Gallery of Modern Art, Nizhny Tagil RU
2019 FRISCH
with Eliane Zinner, visarte kabinett, Zuerich CH
2015 révélée
k4 galerie, Saarbruecken DE
2015 Tausendmal. Der Versuch.
with Malika Hagemann, Saarlandmuseum, Saarbruecken DE
2014 early birds
with Valerian Polienko, enovos, Saarbruecken DE
SELECTED GROUP SHOWS
2023 Werkschau Kanton Zürich
Haus Konstruktiv, Zürich CH upcoming_opening 27.09.2023

2023 Kunststipendien der Stadt Zürich 2023
Helmhaus, Zürich CH
2023 FOTODOKS – future perfect
Lothringer 13 Halle, München DE
2023 Beyond Photography
Vontobel, Zurich CH
2023 IDENTITIES – Portraying the Intangible
Kunsthalle Trier, Trier DE

2022 Black Helvetia
TPR, Le Locle CH
2022 work in progress 2.0
OnCurating, Zurich CH
2022 Superrare Collection Preview
Superrare Gallery, New York City USA
2022 ZORATOPIA
Knockdown Center, New York City USA
2022 Louis Roederer Photography Prize for Sustainability
The White Box at Nobu Hotel Portman Square, London UK
2022 Poem = Work of Art
digital francisco carolinum and TheVerseVerse, AUT
2022 Art Dubai
Madinat Jumeirah Centre, Dubai UAE
2021 Art Basel Miami Art Week Pop-Up
KatapultX Wynwood Studios, Miami USA
2021 Prix d'Art Robert Schuman
Stadtgalerie Saarbrücken, Saarbrücken DE
2021 Digital Art Fair Asia
Hong Kong
2021 Still We Rise
PHmuseum, London UK
2021 Cyberbaat Genesis
1mA gallery and Foundation, Dakar SEN
2021 STILL
Road Gallery, Miami & L.A. USA
2021 Prix Photoforum
Photoforum Pasquart, Biel CH
2019 Fotonacht
Schwarzenburgstrasse 35, Bern CH
2016 Exposition photographique transfrontalière
Espace d'Art Adagio, Thionville FR
2015 OPUS Fotografiepreis
Abbaye de Neimenster, Luxembourg LUX
2015 22. Bundeswettbewerb
Bundeskunsthalle, Bonn DE
2014 Love in a Cold World
Cusanushaus, Saarbruecken DE
2014 Aus der Reihe – 5. Marta-Hoepffner-Preis
Stadtmuseum Hofheim am Taunus, Hofheim DE
2013 Peter und Luise Hager-Preis fuer interdisziplinäre Ästhetik
HBK Galerie, Saarbruecken DE
2012 Unseen
KuBa Galerie, Saarbruecken DE
PUBLIC SPEAKING, SEMINARS, PODCASTS


2023
NFTs & Web3 for photographers
Two-day-workshop
Centre de la Photographie Genève, Geneva CHE
2022
NFTs & Web3 for creative practitioners: the future is tokenized

Three-day-workshop
CCC Research Master and PhD-Forum, Haute école d'art et de design, Geneva CHE
2022
The Art (of) Revolution: NFTs & Web3 – Technology as cultural disruption
Evening lecture and panel with Uli Sigg and Ryan Zurrer
SQUARE – University of Sankt Gallen CHE
2022
The Raw Review
Podcast
2022
'Behold The Ocean – Funding Science with Art on The Blockchain'
and 'Diversity and Decolonizing Culture in Web3'
nonfungibleconference, Pavilhão Carlos Lopes, Lisbon POR
2022
'On Looking – The Year of NFT Photography?'
NFT NYC, Marriot Marquis Times Square, New York City USA
2022
Forum Talks
Podcast