Exhibition view:
FATHERS
,
Women,Fire
, and
stone
, Kunststipendien der Stadt Zürich, Helmhaus Zürich, 2023
INHERITANCE – POEMS OF NON-BELONGING

It took many years of vomiting up all the filth I'd been taught about myself,
and half-believed,
before I was able to walk on the earth as though I had a right to be here.
– James Baldwin in 'They Can't Turn Back', 1960
Would my great-grandfather, Wilhelm Schlüter, have allowed me to live? He was a Senior Lance Corporal in the German Air Force during World War II. What would I have discussed with my grandmother, Yaa Manu, if we had shared a common language?
She was Ashanti and only spoke Twi; sadly, I never learned my father's language.
Inheritance – Poems of Non-Belonging
reveals contrasts emerging from my German-Ghanaian, often seemingly irreconcilable cultural background. It revolves around skin and its vulnerability, as reflected on my living body, in lifeless shells, or photographic carriers. The fragmentation of the self is explored through the lens of photographic materiality. Much of the work lies on the spectrum between black and white, two opposing poles in analog photography, contingent on light and shadow, allowing infinite nuances in varying doses. I work with a collection of negatives from my own photographs and old photos from my family archive. The images continuously evolve. The works are sometimes temporary, as I alter their form after some time. The photographic objects are unique pieces and exist within the context of iterations. I produce the large-format prints myself in the color darkroom, which, when working with black-and-white photography, opens up unique visual realms.
Women, Fire
2021-2023
photographic objects (laser prints, black frames, garbage bags)
Castle Elmina in Cape Coast, Ghana, was the first slave trading post in sub-Saharan Africa, originally built in the 15th century by the Portuguese for gold trading. The photographs come from the women's slave dungeon. Chains are embedded in the floor where the women were bound. Above each chain lies a red, dusty, heavy piece of cloth. Today, the castle is a popular tourist spot, but I couldn't find out who placed these pieces of cloth on the floor at what time. For me, they each marked a female body, so I photographed them like an organic heap of skin, something dying, a shell, something separated. There were three entrances to the women's slave dungeon. Through one entrance, the women were brought into the dungeon. Through another passage, the women were led to the Door of No Return; the last view of the land before they were forced onto the ships. The third entrance was a direct connection to the luxurious rooms of the white slaveholders, who could help themselves to the women at any time. The photographs are printed as thin inkjet prints on thin paper and positioned in square black frames, lined with black garbage bags instead of white mats. The crumpled plastic reminds one of body bags, death logistics, and contributes to the strict formality of the work. The title,
Women, Fire
, is inspired by Yaa Gyasi's novel
Homegoing
.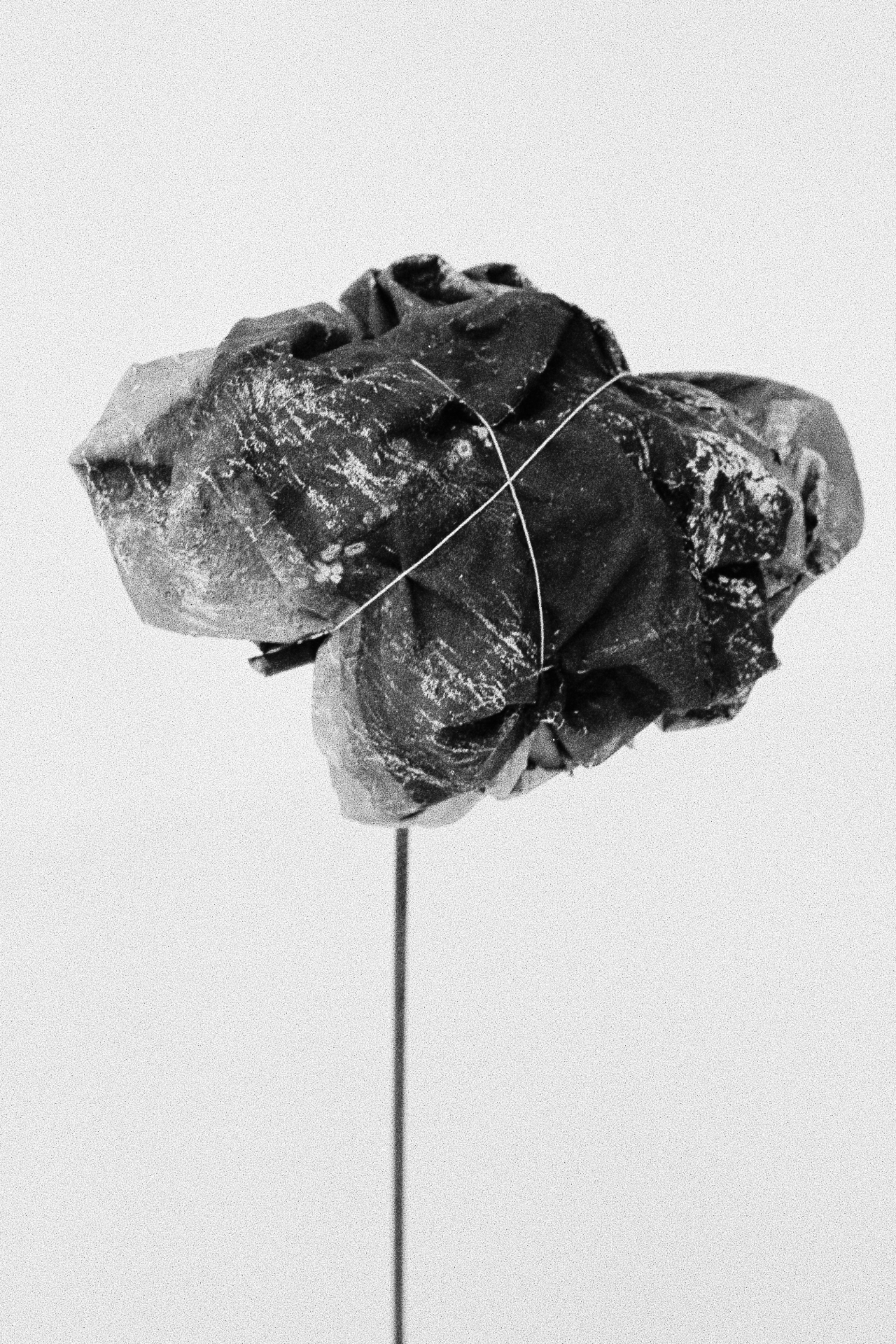 stone
2020/2023
photographic sculpture (silk, light-sensitive emulsion, white and black threads, twigs, stone)
I coated approximately one square meter of bourette silk with photosensitive chlorobromide emulsion, then exposed it with a black-and-white negative of a macro photograph of my skin. Then, I dipped it in photographic developer, chemically fixed it, soaked it in water, dried it, folded it, crumpled it, dried it again, and loosely held it in shape with white yarn. The wet photo emulsion is very vulnerable, leading to a landscape of unevenly distributed scars that remind me of my own body. Most of my scars remain because of hyperpigmentation.
My skin takes years to heal even from the smallest damages.
––
After the sudden death of my father in 2021, much has changed.
Death changes you.
The view of the works, the relationship to the work, everything. Probably nothing ever stays the same. But in the grieving process, it feels as if you are slipping away from yourself. Eventually, you find yourself again, but you've become different.
––
In 2023,
stone
no longer suited me. I cut the work open, reassembled it, and tried to restore the old form, which was not possible.
So I sewed together some of the opened edges with black yarn.
White Gaze II Black Square
2020
photographic sculpture
One square metre of light-sensitive analog baryta paper that was exposed to pure white light and then developed, fixed, washed, crumpled, and dried again. The reflections on the image surface create dozens of white areas depending on the viewing angle. The black image can never appear black, as it will always be overlaid by white light. In June 2020, the worldwide protests against police brutality against Black people and People of Color were sparked by the case of white police officer Derek Chauvin, who murdered African American George Floyd on May 25 in Minneapolis by kneeling on his neck for eight minutes and forty-six seconds. In solidarity, thousands of black squares with the hashtag #blackouttuesday were posted on Instagram, also by Swiss cultural institutions.